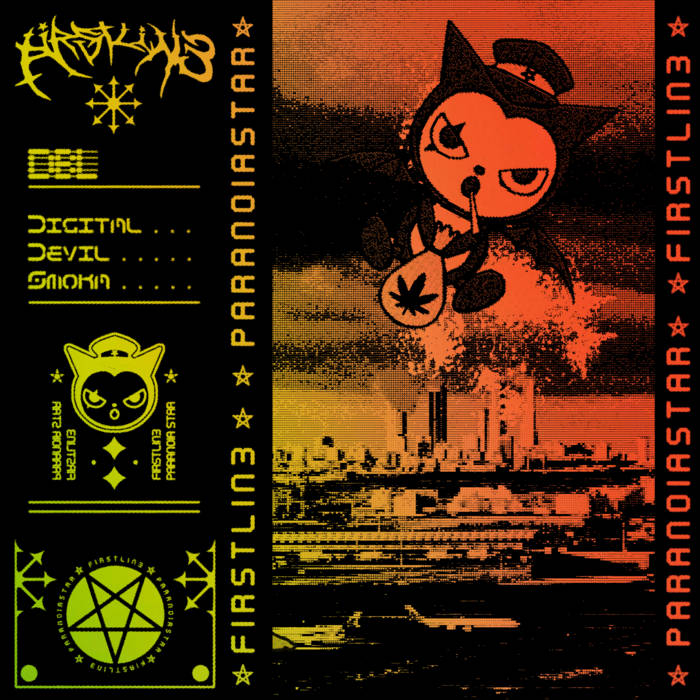 Shipping immediately
New batch from the amazing Jordan based Drowned by Locals
⛧PARANOIA STAR⛧
by firstlin3
Clear frosted cassette shell with on-body print housed in clear case. Cassette includes ⛧paranoia star⛧ Digital Devil Smoka custom-made 111x53mm rolling paper pack; ultra-thin slow-burning rolling papers with a magnetic lock, 32 unbleached filters and papers.
Limited edition of 100.
Artwork by Ghaaro
"While each track is rooted in party music, the plethora of voices and the feverish production give ⛧paranoia star⛧ as a whole the feeling of a burning world on the precipice of paradise and mania." —Daryl Worthington, The Quietus
"Fast-paced bangers that blur the lines between happy hardcore, trance and pop-adjacent styles are, to put it mildly, all the rage right now. . . . It's fun, irresistibly catchy and exactly the kind of thing you'd hear at DIY raves across the globe." —Nyshka Chandran, Resident Advisor
"Drawing from cloud rap, trap, eurodance, dub and dancehall, '⛧paranoia star⛧' rolls off the DBL production line. It's the latest in a slew of releases gradually elevating the Jordanian label to exalted status." —If Only Mag
⛧ ⛧ ⛧
"The Earth is an egg & its ulcerated shell leaks viscous curse. Iberic onmyōji cast urban glamours, esconding the læsions & malisons, but a wretched geometrie secretes signs still. O Madrid-Babylon, city energumen, your heart creeps a black sun, eastern rays to the dawn-bringer's ophidian throne, western rays to Amun's deracinated temple, your river dry but for effluvia, your air moted & opaque, your every corner consecrated to slavers & thieves. In the depths of Barajas, pentacled hands compose Katō an entreaty: Bury this city."
firstlin3 aka concrete fantasies explores the tunnels that run through the underbelly of Babylon, recruiting allies for a sonic war on the city.
Recorded from summer '21 to summer '22 under a cloud of gorilla glue so thick it spread from Spain to Egypt, Portugal, Japan and the UK, ⛧paranoia star⛧ is a spell, a joke and a fucking earthquake tearing through the doomed megalopolis.
⛧ ⛧ ⛧
Producer: firstlin3
Mixing: firstlin3 and Diego Escriche
Master: Rashad Becker
Producers: user4am, signal 0, baby pantera, hydrarchy, gideo
Vocals and Lyrics: frost.y, yayoyanoh, épona, adios adios, decade, illfeel, nigiri ice, ID
Artwork: Ghaaro