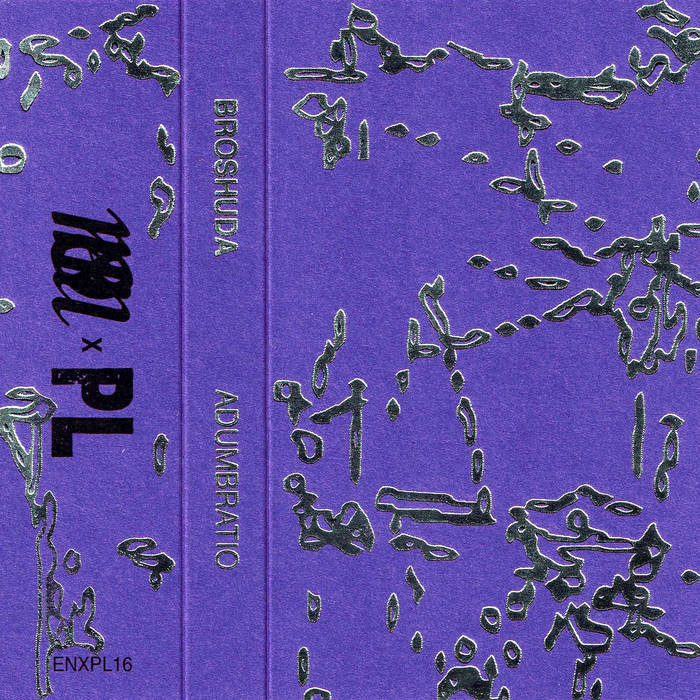 NOW SHIPPING
enmossed x Psychic Liberation
Adumbratio
by Broshuda
heavyweight recycled paper j-cards
silver foil stamped artwork
recycled plastic cassette shells + cases
duplicated at a carbon-neutral facility
edition of 125
Broshuda's impressive output of releases and original production pieces for radio, appearing on imprints and platforms such as Haunter Records, NoCorner, Soda Gong and NTS reaches a new apex with 𝑨𝒅𝒖𝒎𝒃𝒓𝒂𝒕𝒊𝒐.
Two live performances between 2019-2022 were re-constructed and edited in studio, creating a meticulous snapshot of the artist´s current sound and practice.
𝑨𝒅𝒖𝒎𝒃𝒓𝒂𝒕𝒊𝒐 glistens, sputters, and undulates for more than an hour of stream of consciousness electronics, showcasing a unique palette of intricately textured excursions touching on hypnagogic synth music, skeletal dub fragments, blistering noise and gloomy minimal composition along the way.
With nearly a decade of studio and live experience, Broshuda's pacing on the release is impeccable, guiding the listener through caverns of psychoacoustic wonders and technicolor swathes of ineffable modal shifts.
𝑨𝒅𝒖𝒎𝒃𝒓𝒂𝒕𝒊𝒐 is a gem of a document, capturing an exceptional period of work for a key figure haunting the furthest fringes of contemporary electronic music.
---
Cross-pollinating a wide textural range of influences, Broshuda's music incorporates elements of sound art, electroacoustic techniques, chopped spoken word dissections and field recorded material, as well as more rhythmically oriented and noise-heavy excursions.
Though kaleidoscopically varied, the work is held together by a playful sense of experimentation and a willingness to explore new directions of sound through an experimental approach and the use of freeform production techniques to expand and further his already broad sonic palette.
Pursuing a strong Fluxus inspired interdisciplinary ethos in his artistic output, the same attitude is applied to his audio works, resulting in detailed sketches which at the same time show and disguise their inner logic while transporting a diverse range of carefully distilled feelings and emotions.
As an avid broadcaster, Broshuda has supplied one off audio-pieces and guest mix contributions for radio stations and institutions such as NTS, Cashmere Radio, Dublab, Rinse FM, Radio Sygma, Dummy Magazine, If Only & more, as well as having completed a three month guest residency at Bristol's own Noods Radio.
In September 2019 he inaugurated his bimonthly radio broadcast, "Intrinsic Speculations" on Radio LYL.
Over the years he has performed and exhibited his works internationally in a variety of cultural and immersive club-centric settings including Haus der Kulturen der Welt (Berlin), Stettin Philharmonic, Berghain's Säule, Rye Wax, Power Lunches, The Waiting Room, (London), The Exchange (Bristol), Forest Limit (Tokyo), Macao (Milan), NII (Moscow) and Damás (Lisbon) amongst others. 
releases January 25, 2023
Side A mastered by Rupert Clervaux
Side B mastered by Glyn Maier
Audio finalized for cassette tape by Glyn Maier
Artwork by Broshuda
Design by RJM Vanderheyden
Special dedication and thanks to Ewa Pawlik