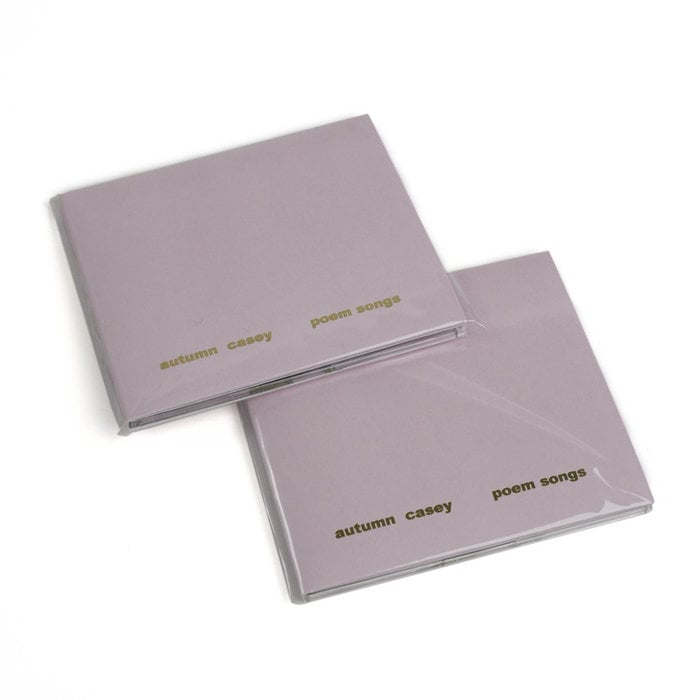 Pre-Order: Expected to ship on within 14 days of 30 September
3 new titles from Psychic Liberation
POEM SONGS
by AUTUMN CASEY
These are the sounds of holes in ballet slippers. The wood of the floor felt through the pink soft
shoe. Autumn Casey is lifting the roof off of the doll house and giving us a look. It's a shitty
apartment with really stellar mood lighting. There's a girl giving a piano recital in the living room
but the couch is empty.
The punching forward piano builds a scaffold that Casey's vocals use to climb. The collision of
melodic keys with her chants, wails, and soft inside-voice narration creates a kind of dark pop
music that taps into angst without giving into despair, without losing a sense of humor. The
poetic lyrics construct a vivid, tangible world and the listener soon begins to feel as if they too
remember a wooden rabbit being torn from a wall. These songs glimmer and sting. The scales
are skipping practice and hitting the pavement, the beach, the strip mall.
Poem Songs is the stuff of myths, of legends, of fairytales : a powerful duke, two princesses,
homes lost and homes found, and genuine magic. Casey is telling us a bedtime story to keep us
awake. There is no hush baby here. It's welcome to the carnival. It's welcome to the mildewed
back porch. It's welcome to pervasive feeling. It's welcome to the ball; now waltz.
Blanche Brown
Autumn Casey, born in West Palm Beach, Florida, is an artist whose work revolves around objects—the stories they tell and the characters they become. Her shapeshifting practice includes sculpture, video, performance, music, and poetry. Inspired by maintenance art and the borders between trash and coveted commodities, Casey draws from personal history, pop and underground culture. Her work materializes the beauty found in memories, exploring the function of nostalgia. In 2019, Casey started designing sculptural lights, inspired equally by Tiffany and thrift store finds, pushing her use of camp and kitsch into one-of-a-kind, functional artworks. Casey's work has been shown at the Peréz Art Museum, Miami; Vox Populi, Philadelphia, PA; and in many other venues. She's completed residencies at Anderson Ranch Arts Center in Colorado and La Sierra Artist Residency in Santa Marta, Colombia. In 2022, she received a public art commission for MoCA, North Miami, to create a pair of sculptures modeled on her parents (but imagined as swans). Casey lives and works in Miami, Florida.
RECORDED BY AUTUMN CASEY
MASTERED BY JACK CALLAHAN
DESIGN AND LAYOUT BY AUTUMN CASEY
RELEASE PHOTOGRAPHY BY CONOR WILLIAMS