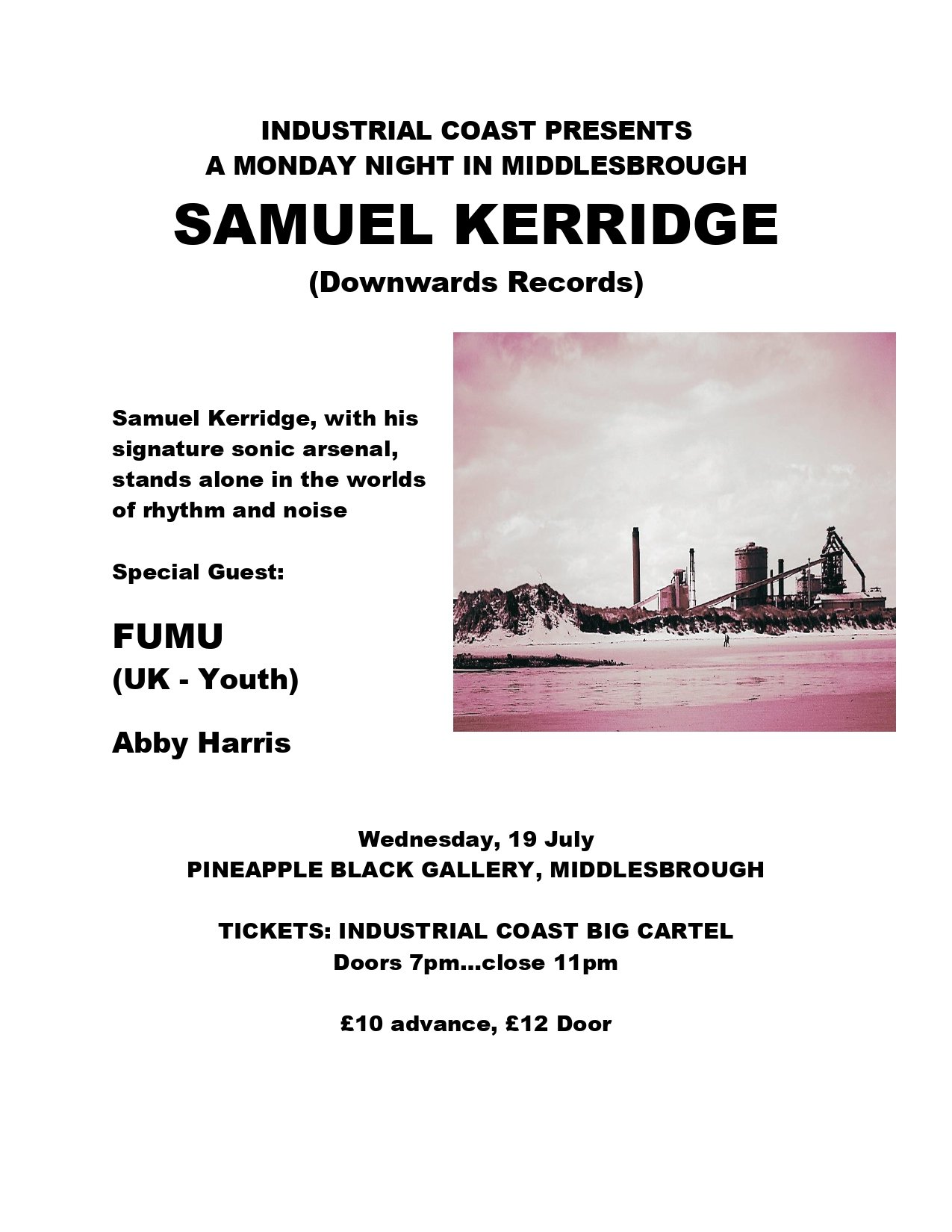 Samuel Kerridge (+FUMU) - Live
As part of our programme of events in support of Sonic Arts Week (delivered by the Auxiliary Project Space), we are thrilled to present:
SAMUEL KERRIDGE (Downwards Records)
++
FUMU
++
Abby Harris
Wednesday, 19 July
PINEAPPLE BLACK GALLERY, MIDDLESBROUGH
TICKETS: INDUSTRIAL COAST BIG CARTEL
Doors 7pm - Close by 11pm
SAMUEL KERRIDGE - Samuel Kerridge, with his signature sonic arsenal, stands alone in the worlds of rhythm and noise. A singular artist, his music is to be appreciated on its own terms. His productions find a strange poetry in illegible communications, stripping meaning down to raw emotional response. Each track is a visceral slab of power, aiming to deconstruct any preconceived notions by means of a cross pollinated methodology. Whether experienced via his releases on Downwards records, Blueprint, Horizontal Ground, and his own imprint (and esteemed Berlin event series) Contort, or live, the listener is subject to overwhelming waves of hyper-sensory stimulation. Whatever form his music takes, Samuel Kerridge continues to evolve, always pushing the limits of sound and space.
FUMU - "FUMU racks up the deadliest, most skewed takes on dancehall rave noise and polluted ambient panoramas...reflecting his roots in Teesside's mix of Bladerunner-inspiring landscapes and natural lushness as much as his skooling in the rugged underbelly of Manny's rave scene"
Delighted that Teesside DJ, Abby Harris, will open the evening
THIS ONE IS NOT TO BE MISSED!
This is an intimate venue - & tickets are strictly capped at 50. Advance booking is highly recommended. All advance orders recieve a DL code for an IC release
PLEASE NOTE: A LIMITED NUMBER OF TICKETS ARE AVAILABLE FREE TO THE UNWAGED/FINANCIALLY DISADVANTAGED. PLEASE ORDER IN ADVANCE HERE TO ENSURE YOUR FREE TICKET
NOTE: no ticket issued. You will receive order confirmation, but you will simply need to provide your name upon entry
LIMITED NUMBER OF DUAL TICKETS: TORN RELICS (MONDAY) x SAMUEL KERRIDGE (WEDNESDAY) AT DISCOUNTED RATE