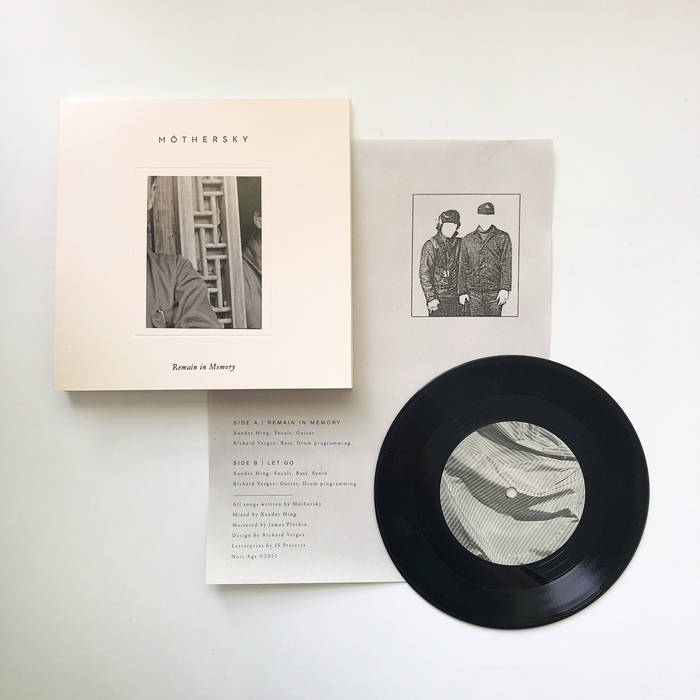 Vinyl via Noir Age
Remain in Memory
by Möthersky
Edition of 200 numbered records, each housed in a custom Rosy womb French paper jacket with letterpress + a unique hand-cut found photo memory fragment on each cover with newsprint insert. Every copy has a different cover.
Letterpress by IS Projects
Blank recycled jackets from Middle Press
I never was in a punk band. Began music by making slow-paced space racket, solo with old tape loops around 2005. Then Möthersky was conceived, starting as a solo instrumental project but evolving into duos, trios, and duos again with a more rhythmic, post-punk approach plus an obvious nod to krautrock structures. And still retaining an electroacoustic murkiness.
Whilst living in NY, a kindred spirit in the form of Xander Hing joined the project as a vocalist and co-conspirator. Pre-jaded NYC lifeforms. An amicable duo of sonic decision makers. Xander, originally a South African native, transplanted to Edinburgh, then eventually Brooklyn. Mutual qualms informed by city stress. Fruitful studio sessions inside a Lower Eastside basement resulting in the 2015 tape release "Our Secrets," which also spawned the track Let Go, features here as the B-side. Musings on stuff like HTRK, The Pop Group, 90's hip-hop, and Gang of Four or Wire. We got on like a trashcan on fire.
We'd switch up instrument duties, but I never really sang anything. We played a few gigs: our first at the Nothing Changes party in Manhattan. Then an accidental string of gigs playing support for a few different notables: Cindytalk, Black Rain, Eric Random, Das Ding, Drew McDowall, Interval.
This is an archival recording, recollecting a time and place, pressed to 7 inch vinyl. Also features a freshly recorded digital bonus track:
What Have We Done (Senzeni Na)
SIDE A | Remain in Memory
Xander Hing: Vocals, Guitar
Richard Vergez: Bass, Drum programming
SIDE B | Let Go
Xander Hing: Vocals, Bass, Synth
Richard Vergez: Guitar, Drum programming
All songs written by Möthersky
Mixed by Xander Hing
Mastered by James Plotkin
Design by Noir Age
Letterpress by IS Projects
Blank media from Middle Press
Special thanks to Möthersky alumni:
Kelvin Mitchell and Raphael Alvarez